$6.00
Designed by Rohn Strong - I was extremely excited and honored when I was asked to design a hat for Halos of Hope. I knew I wanted to design a men's hat inspired by my Grandfather, Dennis Windish. My Grandpa unfortunately lost his battle with cancer about 5 years ago, after a tough 9-month fight. I miss him every day and this hat is a way to memorialize him as well as provide a pattern that men will love and want to wear.
$0.00
Exclusive 2013 Stitches East crochet design
$0.00
Designed for those who need additional airflow in a hat for sleeping or because they are in warm weather climates.
$0.00
The go-to crochet pattern for many of our volunteers!
$6.00
by Maggie Weldon
$0.00
Crochet hat with a ribbed twist. You decide what size to make.
$6.00
Designed by Drew Emborsky (aka The Crochet Dude®)
$10.00
Halos of Hope signature pattern designed with input from individuals who are shark enthusiasts and do the Great White dives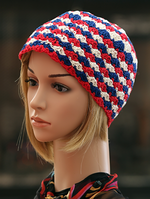 $6.00
Designed by Tammy Hildebrand - Red, white, and blue are not just for the Fourth of July. These vibrant colors are just as suited to help patients facing cancer treatment to look forward to their freedom and independence from this destructive disease. While I hope you enjoy making this hat for yourself or as a gift for a loved one, I also hope you will make some hats to send to Halos of Hope, a wonderful organization that distributes hats to patients at cancer centers all across the country.
$0.00
Exclusive 2012 Stitches East crochet design