$0.00
Points on a halo to honor a cancer warrior. Stitch markers and mathematics become your friend when you knit up this 'only looks complicated' beanie full of twisted stitches.
$6.00
Designed by Myra Wood
$4.00 - $5.00
You get TWO versions with this pattern: stockinette to the crown for speedy knitting and ribbed to the crown for additional texture and beauty.
$0.00
Providing comfort and a no-slip option for the overnight hours.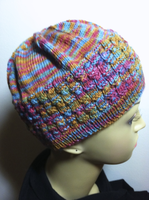 $3.00 - $5.00
This hat is to help remind all of us that sometimes it's the one hat in a basket that makes all the difference to someone going through cancer!
$4.00 - $5.00
Let the waves of the beach lull you to sleep. Bald heads lose heat at night. Our Beaches hat is an exclusive Halos of Hope sleep cap design.
$6.50
Betsy Hershberg designed this beautiful beaded knit scarf to honor her sister-in-law, Sunnie Mitchell, who lost her valiant fight with breast cancer at the age of 60 in 1999.
$0.00
Designed for Halos of Hope by the InterKnit Machine Guild - Stitches Midwest 2012
$4.00 - $5.00
Slouchy unisex knit design - easy to knit
$4.00
Similar to our Angels Watching Over pattern, designed in sizes for the littlest ones battling cancer.