$6.00
by Elise Duvekot - I was inspired by the fall colors to design a knitted hat showing a myriad of colors to brighten up patients' lives during the dark days of winter and, at the same time, to serve as a beacon of hope with a reminder that, even though autumn is followed by winter, the blue skies and sunny days of spring are just around the corner.
$6.00
by Jolie A. Elder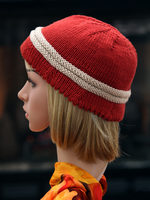 $6.00
Designed by Sandi Rosner - When you look at photos of women from the 1920's wearing cloche style hats, what do you see? I see beautiful eyes. The simple shape and slightly flared brim frames the eyes and cheekbones in the most fetching way, while providing good coverage of the head. This hat, made in an ultra soft cotton yarn, will pamper sensitive scalps.
$6.00
Designed by Cindy Craig
$6.00
Designed by Tanis Gray
$4.00
Imagine a beautiful hat with different scarves - what an amazing gift to someone you love, someone in need.
$10.00
Halos of Hope signature pattern designed with input from individuals who are shark enthusiasts and do the Great White Dives! Note: This listing is for the pattern only, not an actual hat.
$6.00
Designed by Lorna Miser - A cushy, doubled band and stripes in two directions make this slouchy hat perfect for style, comfort, and warmth. In spite of the simple look, it's not boring to knit and includes a doubled band, slip-stitch vertical stripes, and jogless horizontal stripes. Use it as a canvas to play with color. Soft tones give one look, while brights create a whole different mood. Use leftovers for Color B and make a color statement!
$0.00
Zhivago hats often are thick, bulky and furry. A quick knit on size 15 needles that will also use up the novelty yarn in your stash.
$6.00
Designed by Edie Eckman - This textured hat is somewhat loose fitting for comfy wear, and it can easily be made more slouchy by adding additional rounds before the crown shaping. Pink is an obvious color for this project, but choose your own colors to match your wardrobe or your mood. (Guys can wear this one, too, but probably not in pink!)