$6.00
Designed by Melissa Morgan-Oakes - This toque borrows a bit from sweater construction, and turns an alternating cable and twisted-stitch pattern into a fun, slouchy topper. Featuring a mock button band with optional buttons, a soft ribbed brim, and knit in super soft machine-washable wool, this hat is both functional and fun to wear. The body of this hat is worked back and forth and then bound off. Stitches are picked up for the rib-knit brim, and then the top is closed by running yarn through and tying the top closed "paper bag" style. Application of buttons to a mock button band finishes the look.
$6.00
Designed by Antje Gillingham - This hat pattern is dedicated to Kim Nixon whose friendship was cut short and whose beautiful, passionate presence is sorely missed!
$6.00
Designed by Renee Wyatt
$6.00
Designed by Beth Whiteside - Snake crochet chains through the purl bumps as shown, or weave them your way with your own colorful bits of yarn. The afterthought embellishment on Ssserpentine is worked on the outside only, to keep this hat soft on the inside where your head needs it most
$6.00
Designed by Karen Ratto Whooley - This beanie was designed as it was because of 2 things: 1) listening to breast cancer survivors telling me that crocheted hats tend to be too hot on their heads, even with lace work in them, and 2) I wanted something stretchy enough to fit a variety of heads! The slouchy factor was added because it is a style now that is very popular with teens, and I wanted this hat to be wearable and fashion-forward for all ages. I love to wear the slouchy look as well!
$6.00
Designed by Kellie Nuss - A cushy, doubled band and stripes in two directions make this slouchy hat perfect for style, comfort, and warmth. In spite of the simple look, it's not boring to knit and includes a doubled band, slip-stitch vertical stripes, and jogless horizontal stripes. Use it as a canvas to play with color. Soft tones give one look, while brights create a whole different mood. Use leftovers for Color B and make a color statement!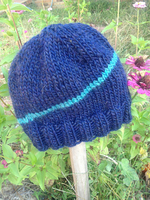 $5.00
Designed by Stacy Mitchell from The Fine Needle, this hat contributed toward saving the locks of Mark Moraca (Kollage Yarns) during the 2012 BuZZ event.
$6.00
Designed by Daniel Yuhas - I dedicate this one to my mom and my friend Ireri.
$6.00
Designed by Gayle Roehm - This bamboo yarn makes an elegant, soft hat with good stitch definition. The bamboo is machine wash and dry, but any soft sock-weight yarn will work. Choose a solid or tonal color so the cables show up well. Knitted-on I-cord edges provide a nice finish and a way to neatly sew in the crown.
$6.00
Designed by Sarah Peasley - Zig leans to the left. Zag leans to the right. Which way do YOU lean?