$10.00
Halos of Hope signature pattern designed with input from individuals who are shark enthusiasts and do the Great White Dives! Note: This listing is for the pattern only, not an actual hat.
$6.50
Betsy Hershberg designed this beautiful beaded knit scarf to honor her sister-in-law, Sunnie Mitchell, who lost her valiant fight with breast cancer at the age of 60 in 1999.
$6.00
Designed by Myra Wood
$6.00
by Elise Duvekot - I was inspired by the fall colors to design a knitted hat showing a myriad of colors to brighten up patients' lives during the dark days of winter and, at the same time, to serve as a beacon of hope with a reminder that, even though autumn is followed by winter, the blue skies and sunny days of spring are just around the corner.
$6.00
by Jolie A. Elder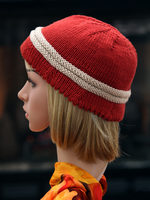 $6.00
Designed by Sandi Rosner - When you look at photos of women from the 1920's wearing cloche style hats, what do you see? I see beautiful eyes. The simple shape and slightly flared brim frames the eyes and cheekbones in the most fetching way, while providing good coverage of the head. This hat, made in an ultra soft cotton yarn, will pamper sensitive scalps.
$6.00
Designed by Tanis Gray
$6.00
Designed by Melissa Morgan-Oakes - This toque borrows a bit from sweater construction, and turns an alternating cable and twisted-stitch pattern into a fun, slouchy topper. Featuring a mock button band with optional buttons, a soft ribbed brim, and knit in super soft machine-washable wool, this hat is both functional and fun to wear. The body of this hat is worked back and forth and then bound off. Stitches are picked up for the rib-knit brim, and then the top is closed by running yarn through and tying the top closed "paper bag" style. Application of buttons to a mock button band finishes the look.
$6.00
Designed by Antje Gillingham - This hat pattern is dedicated to Kim Nixon whose friendship was cut short and whose beautiful, passionate presence is sorely missed!
$6.00
Designed by Beth Whiteside - Snake crochet chains through the purl bumps as shown, or weave them your way with your own colorful bits of yarn. The afterthought embellishment on Ssserpentine is worked on the outside only, to keep this hat soft on the inside where your head needs it most